Every month our Relief Society Presidency picks an "emergency preparedness" theme for that month. Small, consistent efforts making a big difference at the end of the year.
Such a blessing for us, our families and community!
This month —
to help us be more spiritually prepared, Sis. W. is asking us to take a look at the book "Daughters in My Kingdom," and find something in there to take to heart.
You can find it online
here
, and our Relief Society Presidency has copies they can get to you on Sunday. I'm all for saving trees and enjoying the convenience of reading off my phone, but I have to say – I LOVE my hard-copy of this little manual.
It's beautiful.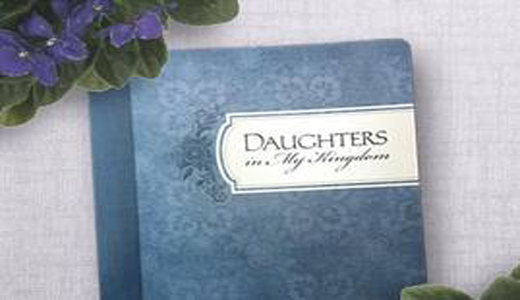 I would like to add my personal encouragement to our presidency's, Sisters. There is a strength in learning more about the history of Relief Society and its place in our lives. This book is just full of amazing quotes, inspiring stories, uplifting messages… It's like a little love note from Heaven, the whole thing.
I mean, check out this little snippet. How much do you love it?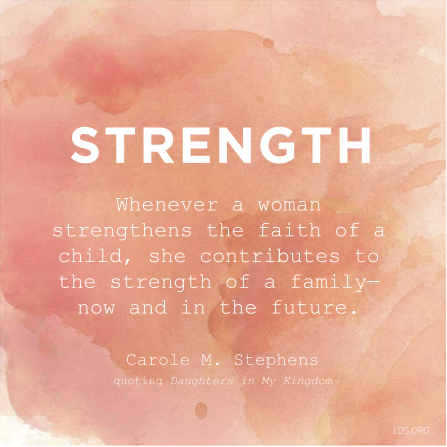 And in fact, friends, I just last month happened to write a little one page paper about my experience studying this book.
You'd like to read it? Really? Aw, shucks, well, here you go, since you asked so sweetly:
By Alisa Smith, Feb 2016
Something changed inside me when I read the very first line of the First Presidency's message in the front of Daughters in My Kingdom.
"Dear Sisters," they said.
Sisters. This book is especially for women. Especially for me. Heavenly Father knows us and loves us as His daughters and His spokesmen are addressing us, specifically. Something changed inside me, knowing that my identity as a "sister in Zion" is distinct, valuable, and unites me with every other daughter in His kingdom.
Something changed inside me when I read the quote from Sister Spafford (on page xiii) encouraging us to place "emphasis where the rewards will be the greatest," and shed the "less rewarding activities." I knew I needed to change some priorities, and that this principle was key to creating just the right balance in my life. Something changed as I recognized the need to move from where I am, to where I need to be. I began to suspect that the truths in this book would indeed help me get there.
When my eyes opened to the timeless nature of the Relief Society, something else changed. A small seed was planted in my heart, and it was called "understanding what Relief Society really is." I had never before thought about women being organized and unified through other dispensations of the Gospel. Something changed, like tiny candle being lit in a dark room.
Something changed again when the light of the restoration grew in my mind to include the founding of Relief Society. I could easily see how the organization of the church would be totally incomplete without the women also being organized. I could not imagine a Bishop without a Relief Society president. The church became, in my mind, a family, with a father (the priesthood) and a mother (the Relief Society), working together. In that completely new perspective, something definitely changed.
Something changed inside me with every chapter I read. I learned that I wasn't alone in going through difficulties and overcoming them through faith in the Savior. I began to understand that charity, like faith, is an attribute requiring action to thrive. I found that Relief Society is more than just an organization – it is a sanctuary. I discovered my purpose in motherhood, applying principles I've understood for years into my current circumstances, and seeing quite clearly how Relief Society helps me succeed.
Something changed, changed profoundly and forever, when my eyes opened to what Relief Society really is.
"Your every need shall be fulfilled, now and in the eternities;
every neglect will be erased; every abuse will be corrected.
All of this can come to you, and come quickly,
when you devote yourself to Relief Society."
[Boyd K Packer, p.99]
This is not just a third-hour class. This is not just casseroles to families with new babies, laminated bookmarks, and warm hugs from Visiting Teachers.
This is an organization encircling the globe, founded by God for the saving of His daughters
– and by extension, their families –
and by extension, a means to
lift and light up,
inspire and instruct,
help and heal,
or in other words, bring relief,
to the whole wide world!
So read it, sisters. Learn more about our roots. Find something in here to strengthen your faith, give hope to your heart, light to your mind, motivation to take that next step towards an even better relationship with our Heavenly Father. You won't regret it!
Source: L7 Relief Society